Name:
1xLC 4K Mini HDMI Fiber Optical Extender
Product Description
PRODUCT DESCRIPTIONS:
The 4K Mini HDMI Fiber Optical Extender Set consists of transmitter module and receiver module, each of which has a LC connectors and a HDMI plug. Users could decide extension length at their discretion by choosing the length of fibre-optic cables with LC ferrules at the ends. It offers graphic TMDS signals to be extensible up to the limits of modal bandwidth of selected OM3 Multi-Mode glass fibers or Single-Mode fibers.
The communication between the BNT-4KHDMI3-TX and BNT-4KHDMI3-RX is bi-directional, the data rate from the TX to RX is 10.2Gb/s with 1310nm, and from the RX to TX is 250Mb/s with1550nm, the 1310nm and 1550nm optical signals are multiplexed to one fiber with a 1310/1550nm WDM filter insider the HDMI extender.
The BNT-4KHDMI3 HDMI Extender compliant HDMI 1.4 standard, It Support resolution is up to 3840*2016/30Hz (YUV 4:4:4) or 3840*2016/60Hz (YUV 4:2:0). It support distance up to 300m over OM3 MMF and SMF.
Features:
◆ Extend the HDMI signal up to 300 meters over OM3 MMF or SMF Fiber (1310/1550nm Laser);
◆ Support HDMI1.4, HDCP1.4;
◆ Resolution up to 3840*2160/60Hz(Y:U:V 4:2:0);
◆ Detachable feature with 1x LC OM3 MM Fiber or SM Fiber;
◆ The modules are compact enough to directly plug to graphic sources and displays by adopting HDMI plugs;
◆ Includes two (2) +5V DC power adapters for the transmitter and receiver;
◆ Data security with negligible RFI/EMI emissions and loss of video quality due to no copper conductor present;
Applications:
◆ Digital FPDs, PDPs and projectors for medical appliances, aero, traffic control, factory, and bank;
◆ Digital FPDs and projectors in conference room and auditorium;
◆ Kiosk with digital FPDs showing full motion graphic displays from remote systems;
◆ PDP displays for information in public sites;
◆ LED signboards in streets and in stadiums;
Application diagram:
Drawing

Dimension [mm]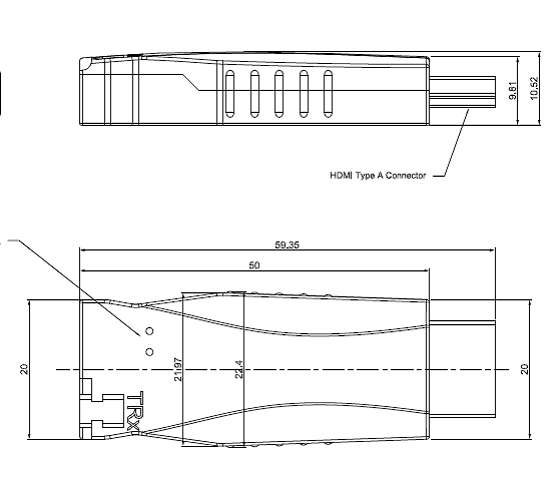 Installation:
Note: Please install the optic HDMI extender according to the following step, if not, the extender should be not working.
1. Connect the HDMI-T to the Video source and connect the HDMI-R to the display;
2. Connect the Fiber between the HDMI-T and HDMI-R,
3. Connect the External Power Supply to HDMI-T and HDMI-R.
4.Apply the power to the system.